Description
Convert Apple CarPlay to Android 11 System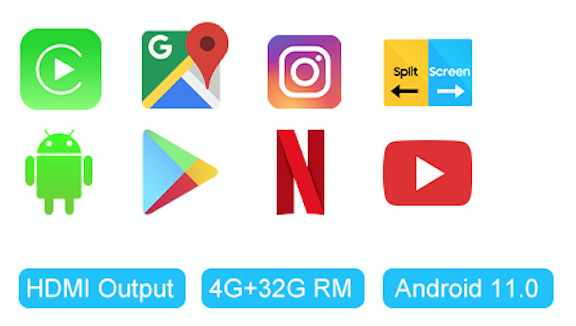 Faster and more stable connection
Higher performance
Lower power consumption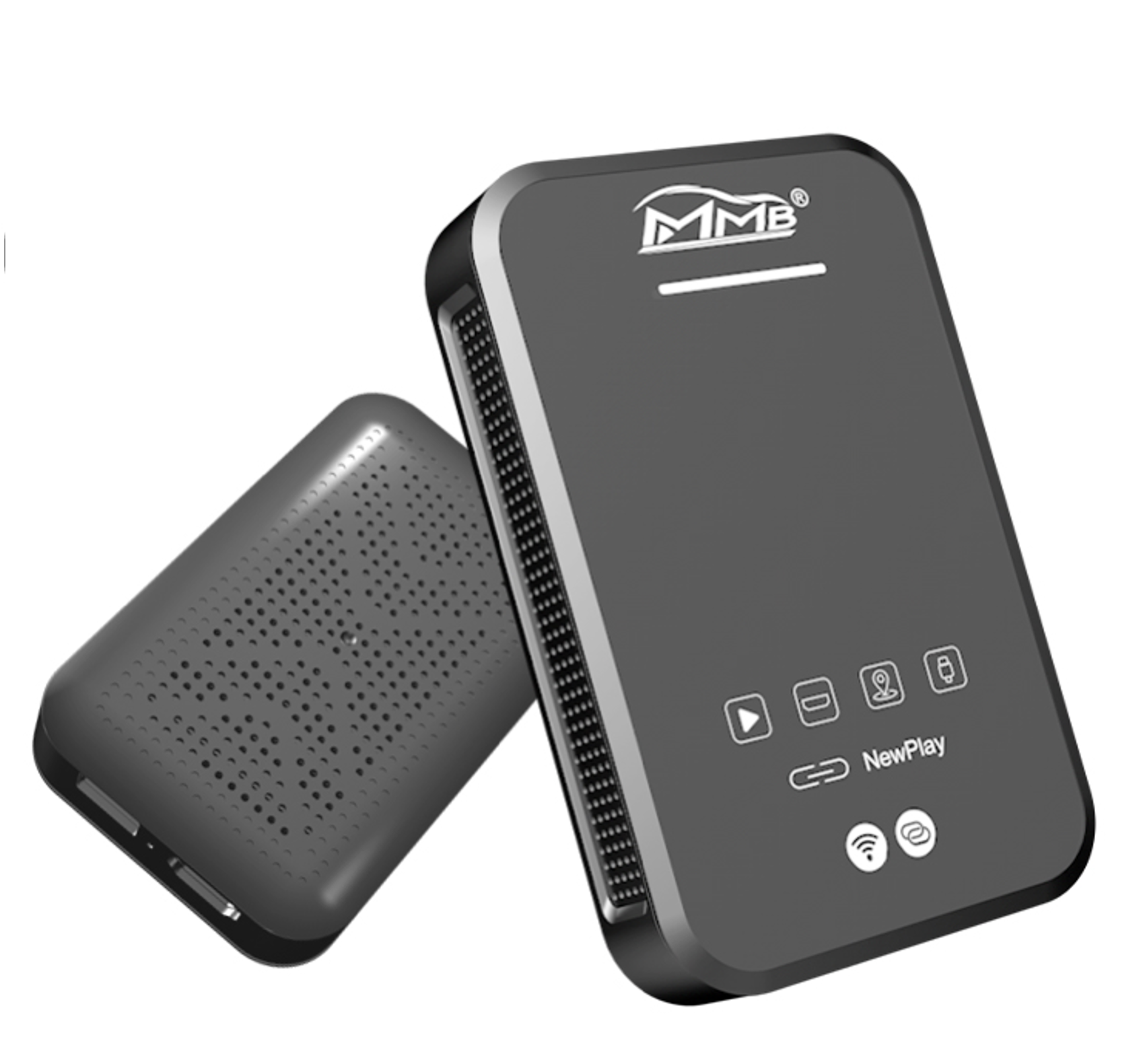 Android MMB digital innovation device for cars with original Carplay and touchscreen
Android MMB is a Carplay add-on that allows you to download and use Android apps on your car's screen. Android MMB takes advantage of the car's original Carplay access and provides an independent Android 11 operating system with the most popular applications already loaded:
Google Maps, Waze, Youtube, Netflix, Google Chrome, VLC player, Angry Birds, and many more available for download from the Google Play store.
Exclusive to Android 11, the update brings split screen functionality, allowing you to use 2 apps on the screen at the same time, such as Waze and Spotify, or Google Maps and Youtube. Android MMB also supports screen mirroring – you can stream the screen image of your Apple and Android smart device to your car's screen. In addition, the Android MMB can play a wide range of high-quality video and audio formats from a connected USB memory stick.
The Android MMB also functions as a Carplay wireless set-top box (wired 2 wireless) – when Apple Carplay is selected, the device will move, connect wirelessly to your phone and activate the Apple Carplay function in the car. The device also supports wired Carplay and phone charging.
This accessory connects to the internet via your smartphone's personal hotspot or internet tethering internet access. It is also possible to connect to an external 4G modem. The device does not connect to the original car WiFi network.
The device uses the GPS signal of the smartphone. Included is an additional GPS antenna that needs to be connected to the fuse box of the car to give the device its own separate GPS antenna. (Useful if offline maps like iGo or Sygic or Google Maps are used).
Make sure your vehicle has factory wired Apple CarPlay function. Easiest way to test is to plug in an iPhone in your vehicle's USB ports. Also check whether your car make is listed below:
Audi 2016-2021
Buick 2018-2021
Cadillac 2018-2021
Chevrolet 2018-2021
Chrysler 2017-2021
Citroen 2018-2020
Dodge 2017-2021
Fiat 2017-2021
Ford 2017-2022
GMC 2017-2021
Honda 2018-2021
Hyundai 2016-2021
Jaguar 2019-2021
Jeep 2018-2021
Kia 2017-2021
Land Rover 2019-2021
Lexus 2018-2021
Lincoln 2017-2020
Mazda 2018-2021
Mercedes Benz 2016-2022
Nissan 2018-2021
Opel 2017-2020
Peugeot 2017-2021
Porsche 2017-2021
Ram 2018-2021
Skoda 2018-2021
Toyota 2019-2021
Vauxhall 2017-2020
Volkswagen 2017-2021
Volvo 2019-2021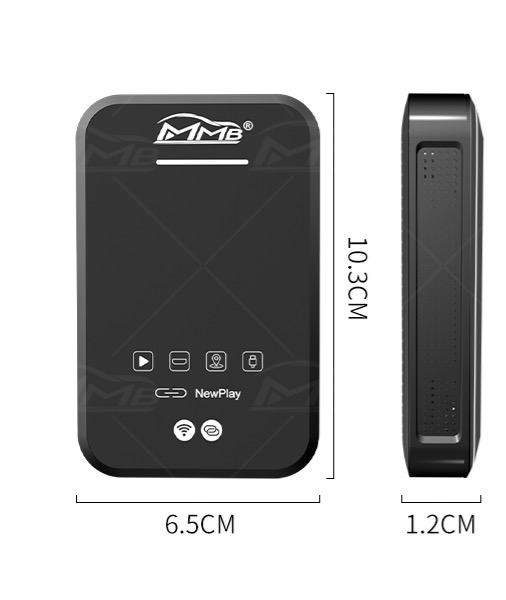 Operating system
Android 11.0 Operating System
Processor
Quad-core 1.8GHz ARM Cortex-A53
RAM
4GB LPDDR Dual Channel Function
Storage Capacity
32GB eMMC ROM
Navigation
GPS/Satellite Positioning System
Video Encoder
H.264 4K @30fps
Wireless Connections
Bluetooth 4.2 Wi-FI 2.4GHz + 5.0GHz
GPU Renderer
Mali-450 MP2
Working Temperature
-20°C ~ 70°C
Applicable Car
For vehicles with CarPlay
Keep Original Control, Multiple Control Methods
All Intelligent Voice Control
More HDMI Product Connect
Plug and Play carplay dongle, No trouble of installation. Download what you what!No software restrictions, You can download any apps: YouTube, Netflix, Yandex etc.
Compatible with Headrest Monitor, TV and screen with HDMI port. Support multiple control methods, OEM Steering wheel controls, Ai voice Control, Wireless remote control.
Switch between apple CarPlay and Android system at any time without exiting the system.
MMB Wireless CarPlay Adapter Multimedia Video Box Plus
Wireless Connection. Enjoy Your Relaxed And Safe Driving Life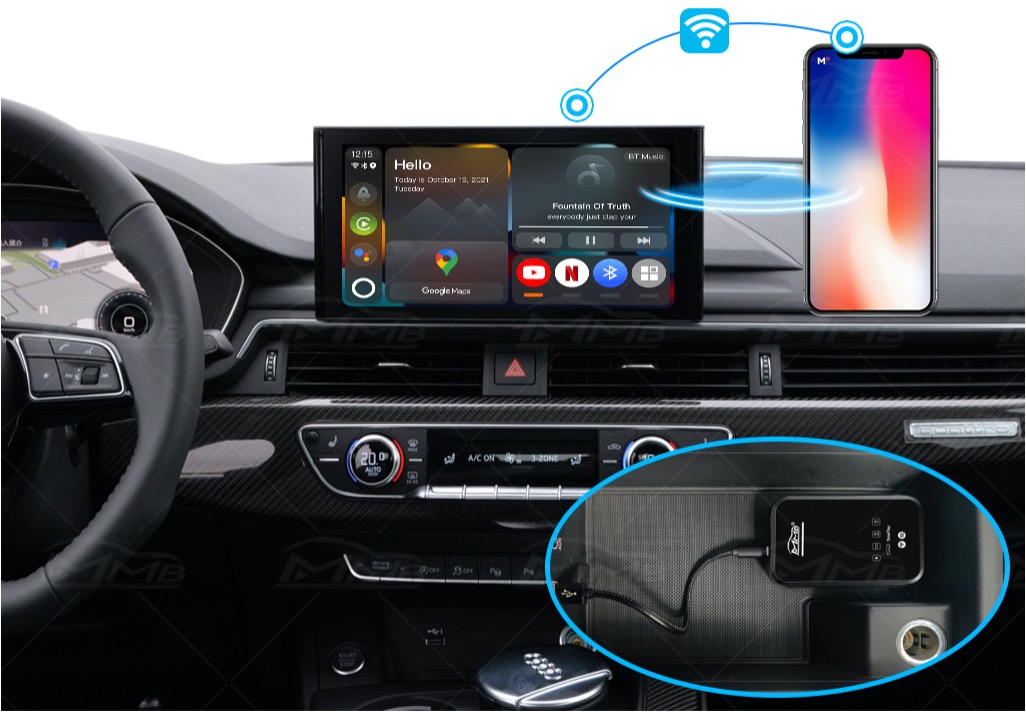 WiFi & Bluetooth,​ Plug and Play,​ Original car Upgrade and Online Upgrade will make travelling more comfortable.