Description
Wireless Carplay Adapter Plus will allow you to use the original Carplay without a cable connection and also play Youtube videos on the original screen!
The  adapter  allows you to use Carplay without a cord in cars where the original Carplay only works by connecting a mobile device via USB. Simply set up your mobile device with the wireless Carplay adapter once and Carplay will automatically switch on every time you get in the car.
The  adapter also has built-in AirPlay and Mirror Link functions for iPhone and Android devices, respectively, which allow you to watch Youtube videos or share your mobile device's screen on the car's display even when the car is in motion (video in motion).
Works in cars with a standard USB or USB Type-C socket.
Carplay charging time – 28 seconds.
Possibility to play video and music files from a USB stick.
Screen size-adaptive resolution and convenient menu control via original buttons or touch screen.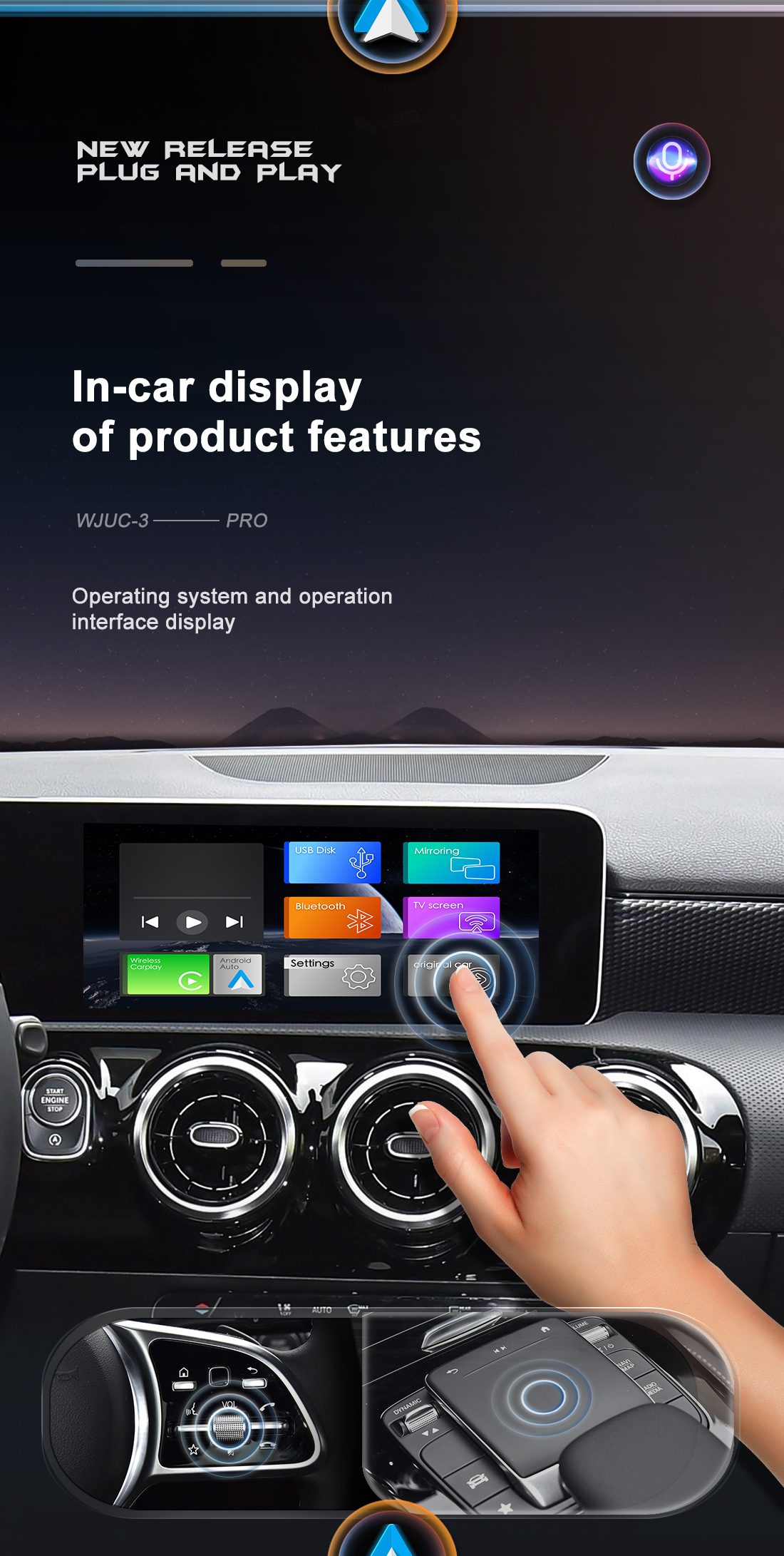 The wireless adapter is suitable for the following manufacturers' cars manufactured between 2015 and 2020 with original wired Carplay:
Audi, Mazda, Mercedes, Skoda, Dodge, Porsche, Peugeot, Volvo, Honda, Hyundai, Nissan, Ford, Alfa Romeo, Bentley, Cadillac, Chevrolet, Citroen, Genesis, GMC, KIA, Lexus, Maserati, Opel, Renault, Seat, Toyota, Range rover, Jaguar, Subaru, MG, Suzuki, Lamborghini, GAC, Volkswagen.
Operating principle: Wireless Carplay Mirror Link and via the original carplay protocol
Suitable mobile devices with:  iOS 10+ / Android 10+ software versions.
Technical parameters:
CPU: allwinner H6 A53 4 core 1.5Ghz
GPU: RK 3318
Ram: 1gb DDR3
Body Memory: eMMC 8GB
Wireless Spec:
Wi-Fi: IEEE802.11b\g\n 2.4Ghz\5GHz
BT: V4.2 2.4GHz
Product Specifications:
Working current: DC 5V 1A±0.3A
Operating Voltage: DC 5v
Working temperature: -20C  / +65C
Package includes:
Wireless Adapter
USB -> type-C cable
Type-C -> type C cable
Operating Instructions.