Description
Audi Apple CarPlay and Android Auto device for Audi A6 A7 Q3 (2011 - 2018)
Suitable for Audi MMI RMC version system ONLY
This Audi CarPlay / Android Auto multimedia device from Carplay.lt is a great alternative to an expensive MMI RMC upgrade or navigation retrofit.  This kit enables you to use your favourite apps from your phone to your multimedia. Use favourite navigation system, listen to music, read messages, and everything your phone can do, you can do it on your car's factory screen and stereo.
Audi Apple CarPlay And Android Auto key benefits:
– No need to replace the original multimedia screen.
– Wireless interface via WiFi and Bluetooth or USB connection.
– Original functionality is retained – you can return to the original menu at any time.
– The original display of car cameras or parking sensors is retained.
– Control by steering wheel, original wheel or phone.
– Voice control with Siri or Google assistant.
– USB interface for playing music or video files.
– Hands-free – better audio call quality than OEM.
– Sound system equaliser function.
–Rear view camera input and setting.
–Front view camera intup for aftermarket camera.
– Easy installation – no need to cut and solder wires, possibility to remove the handset.

Apple Carplay
CarPlay is a smarter and safer way to use your iPhone in the car. It is pre-installed function of every iPhone with iOS 10 and higher. When you connect your iPhone to CarPlay, you can use most popular messaging, music and navigation applications such as Google Maps, Waze, Spotify, Whats App and many more directly on a screen of a car, without the need to look at your iPhone.

Android auto
Android Auto is a function of Android phones, running Android 10 and higher, which a smarter way phone while driving. Android Auto has most popular music, messaging and navigation applications such as Spotify, Whats App, Waze, Audible, Google Maps and more. All Android Auto applications adapted to use with Google Assistant voice control. Enjoy safer driving experience with Android Auto everyday.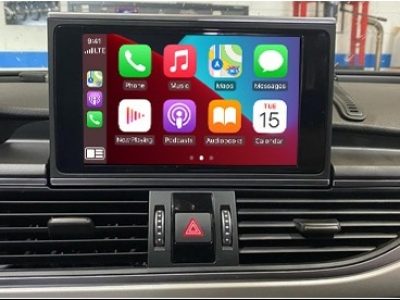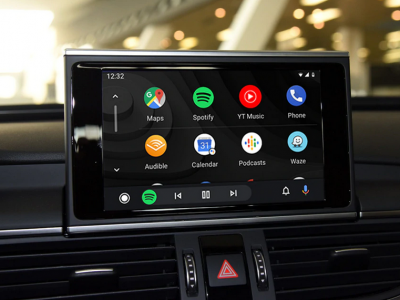 Is this Audi Apple CarPlay / Android Auto integration suitable for my car?
This kit fits:
A6 S6 C7 (2011 – 2015) 
A7 S7 C7 (2011 – 2015)
Q3 U3 F3 (2014 – 2018)
Your A6 A7 Q3 must have a coloured multimedia screen and a media button.
Which version of Audi MMI is in my car?
For Apple Carplay and Android Auto integration to work in your car, you need to determine what type of multimedia version you have. The correct multimedia version type is shown in the photo below. The multimedia version of your car must correspond to (RMC) code. Then this device will fit in your car.
How to find this window in your car press this link.
In the Audi Apple CarPlay / Android Auto package:
1 x Audi Carplay box.
1 x Plug and play wiring loom.
1 x Microphone.
1 x Screen (LVDS) cable.
1 x Reverse Camera wiring loom.
1 x Wifi antenna
Inner Audi Apple Carplay / Android Auto menu and setup windows
TOP 3 REASONS TO BUY OUR AUDI APPLE CARPLAY / ANDROID AUTO PRODUCT
Everyday we work hard to make driving experience of our clients better and happier!
#1. High Quality
We sell only top quality appliances. This device is CE/ROHS/FCC/ISO9001 certified.
#2. Plug and Play
Our product is Plug and Play. Meaning you don't need to do any programming or slicing OEM wiring. Simply reconnect wires and enjoy Carplay.
#3. Great Support
We provide an easy to understand electronic installation guide and we are ready to answer all your questions by email.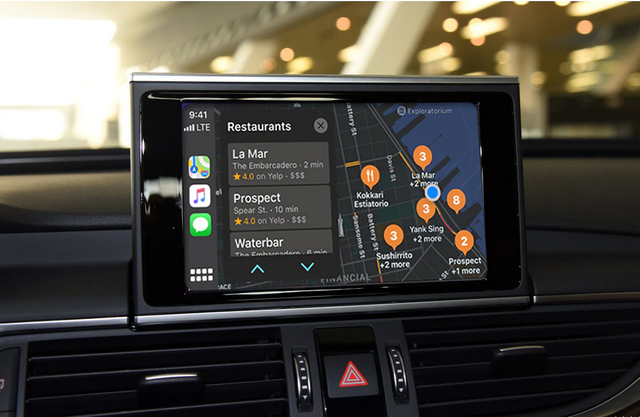 Frequently Asked Questions
1. My Audi has MMI RMC fitted. Will this Audi Apple CarPlay / Android Auto kit fit my car?
Yes it will fit if your car is mentioned at the start of description, fits car made years. If you still do not know then please feel free to contact us.
2. Will I have to change my original car screen or make wiring modifications?
This kit allows you to retain the factory fitted display screen in your car, and all wiring is plug and play, so no cutting wires.
3. Will the sound come from my car stereo?
Yes, this device will play music from your car's sound system, just switch your Audi radio to AUX mode to play the music.
4. Will it work with Right hand drive vehicles?
Yes, our kit is compatible with worldwide models. Please note – an Apple iPhone is required for CarPlay functionality.
5. My car doesn't have an AUX socket, only AUDI AMI?
In this case you will need an additional AUDI AMI -> AUX cable.