Description
The new Wireless Carplay Adapter lets you to use Apple Carplay without a cord and experience new speeds!
For Apple iPhone mobile phones only and only for cars with original Apple Carplay functionality.
This new Apple Carplay adapter is faster and more compact than its predecessor. So it's even easier than before to find a place to put this adapter. You'll get twice the start-up time and faster switching between apps.
Simply plug it into your car's USB socket and pair it once with your existing iPhone via Bluetooth. Apple Carplay will activate automatically every time you get in the car!
A wireless Carplay adapter for using Apple Carplay without connecting your phone to a USB cable. So you don't have to use the USB port on your phone every time you get in the car.
The Apple Carplay Adapter is only available for cars with the factory-fitted Apple Carplay System and iPhone mobile devices.
How to connect and pair Wireless Carplay Adapter for the first time?
It is a single time procedure. Make sure Apple Carplay function is active in your mobile phone. Turn on Bluetooth and WiFi.
Plug your Apple Carplay device with a USB cable into a USB socket in your car that has Carplay functionality. When the device starts connecting to the car system, the indicator colour will change to red and you will see the Bluetooth signal name on the car screen.
Open the list of Bluetooth devices on your iPhone mobile phone, then select the device with the corresponding code and pair the devices. After a successful connection, the indicator light will change to green and you will see Apple Carplay on your car screen.
1x Adapter
1x USB-A/USB-C wire
1x User Manual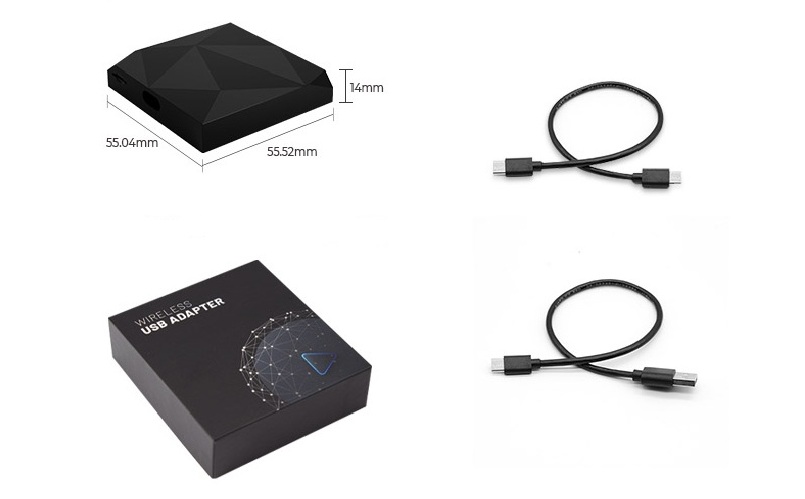 Supports all iPhone models with iOS version 10 and higher!
The Carplay Wireless Adapter is suitable for the following cars manufactured from 2016 onwards, where Carplay only works when the phone is connected via USB cable.
Audi, Mazda, Mercedes, Skoda, Dodge, Porsche, Peugeot, Volvo, Honda, Hyundai, Nissan, Ford, Alfa Romeo, Bentley, Cadillac, Chevrolet, Citroen, Genesis, GMC, KIA, Lexus, Mitsubishi, Maserati, Opel, Renault, Seat, Toyota, Range Rover, Jaguar, Subaru, MG, Suzuki, Lamborghini, GAC, Volkswagen.
Wireless Carplay Adapter fits with aftermarket headunits:
Pioneer, Kenwood, LCCP, JVC.
Operating system                                 Linux
Processor                                                Dual core 1.2GHz ARM Cortex A7
Memory                                                   64 MB RAM + 16 MB ROM
Wi Fi                                                          Dual-Band  802.11 a/b/g/n/ac  2.4 GHz + 5 GHz
Bluetooth                                                 BT-5.0
Connectors                                             USB Type-C
Power input                                             USB-5V
Operating Temperature                      -20∼75°C
Dimensions:                                            Height                   55mm
                                                                   Width                    55mm
                                                                   Thickness             14mm
                                                                   Unit Weight          28g
Will this device work in my car?
If your car is factory-fitted with CarPlay, then yes! If you don't see your car, please contact us with the model and year of manufacture of your car.
Do i need to pair Wireless Carplay Adapter each time i want to use Apple Carplay?
No. If you pair your device with your phone, the Carplay Adapter will automatically connect every time you start your car. So you don't have to worry about logging in every time.
Wireless Carplay Adapter use "WiFi", or "Bluetooth"? I don't have "WiFi" in my car.
Our adapter has both WiFi and Bluetooth facilities. It connects via Bluetooth and sends a WiFi proxy to the phone, then disconnects from the Bluetooth network. From that point on, it only works over WiFi.
Will it work with my Android phone?
This adapter works with all iPhones from version 10 ios to the latest version. However, it does not support Android phones.
If I have two phones, which phone device will choose?
You can use either phone, but if you have both devices in the car, the Apple Carplay adapter will connect to the last paired phone.