Description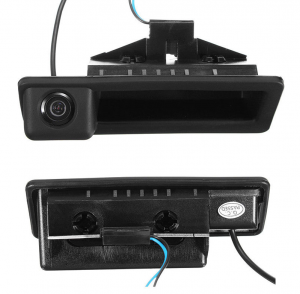 HD BMW camera, rear view of the original location of the boot release handle.
Key features:
Reversing parking camera based on the BMW boot handle.
Unique design, clear image, night vision, with reference line functions.
Waterproof, plastic material, combined with a rubber cover.
Easy installation, no need to drill or cut anything, the camera is made to directly replace the original luggage handle and keep the original look.
The video signal is transmitted via the supplied video cable to the video unit or to the BMW Carplay CIC Integration Module.
Also works with modified aftermarket navigation systems (e.g. Pioneer, Sony, Alpine, Kenwood, etc.)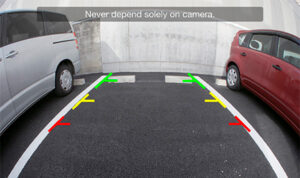 The package includes:
1 x Rear view camera for BMW cars in standard position
1 x 6M RCA video cable
1 x power cable
1 x camera reel
Suitability:
BMW 1 Series E82 | E84 | E88 (2007 – Onwards)
BMW 3 Series E90 | E91 | E92 | E93 (2004 – Onwards)
BMW 5 Series E60 | E61 (2005 – Onwards)
BMW X1 E84 (2009 – Onwards)
BMW X5 E70 (2006 – Onwards)
BMW X6 E71 (2008 – Onwards)
Specification:
Size: 110mm x 40mm
Camera Cable Length: 0.5m
Camera Extension Cable Length: 6m
Power Requirement: 12V DC
Image Sensors: 1/3″ Colour Sharp CCD
TV System: NTSC
Resolution : 580TV Lines
Working Power (DCV): 12V
Pixels: 1280*720 /1920*1080
View Angle: 170 degree
Image Sensor: CCD1/3
White Balance: Auto
Water-proof: IP68
How to install:
Remove the boot handle at the back of the car.
Remove the trunk handle from the back of the car.
To obtain power, connect the power cord of the handle to the cord where the spare luggage handle was connected
Connect the camera power supply to the reversing lights – the red wire to the positive and the black wire to the negative.
Connect the camera's video lead to the video lead extender.
Connect the extender to the car's camera control unit, Carplay integration, or a modified aftermarket navigation system.
You will see the image when your car is in reverse.
NOTE: The rear view camera system works with a +12v system. Some CANBUS models have a reverse bulb power voltage drop (bulb-off warnings on the display). In such cases, a camera relay is required, which is included with the package
Join us!