Description
BMW CCC Carplay Android Auto E81 E90 E60 E63 E70 E71 2003 2008 Integration with MOST audio with connection.
BMW CCC Carplay MMi is the highest quality product from MR12Volt, and the only one in the market which uses MOST (optical cable) connection for audio transmission, therefore maintaining unaltered sound quality. This is especially important for cars with the premium audio systems Logic7, Harman/Kardon.
Both Android and Apple phones connect to the device via Wi-Fi and Bluetooth, so USB cable is not necessary.
BMW Carplay MMi's menu is controlled by the original system controls – the rotary knob and switches on the steering wheel in order to retain the original BMW driving experience.
BMW Carplay is fully integrated with BMW's original parking system. It automatically switches to the rear-view camera or parking sensors when reversing and switches off when driving forward.
BMW Carplay allows you to connect additional front and rear view cameras, even if the car has not previously been equipped with such features.
BMW Carplay wiring harness connects to the original connectors, eliminating the need to cut and solder wires. The device is fully ready to use and does not require any additional programming to the car.
The brand new Carplay MMi integration version has just gotten better now with a built-in highly customizable 15 bar DSP equalizer!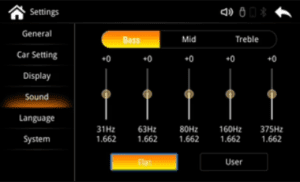 The main advantages of BMW CCC Carplay MMi:
No need to replace the original multimedia display.
The audio is connected via a MOST fibre-optic cable (not via AUX), so sound quality is maintained.
Connection via Wi-Fi and Bluetooth, or USB cable.
Original functions are retained – you can return to the original menu at any time.
The original display of vehicle cameras or parking sensors is retained.
Control by steering wheel, original knob or phone.
Voice control using Siri or Google Assistant.
USB interface for music or video playback.
Sound system equaliser function.
Possibility to connect additional front and rear cameras.
Tidy installation – no need to cut or solder any wires, everything connects with the original connectors.
Publicly available software updates on the manufacturer's website.
CE / ROHS / FCC / ISO9001 certification.
1 year technical warranty.
Warning: the system occupies the slot of CD changer, so the CD changer will not work after installation!
You will also not be able to listen to FM radio and use Apple Carplay or Android Auto at the same time, as the audio channel is automatically switched when the system is activated. The radio can be listened online via "Tune-in" app.
Android Auto wireless works with Android 10 and above mobile devices:
Google: Pixel/XL. Pixel2/2 XL. Pixel 2/3 XL. Pixel 4/4 XL. Nexus 5X. Nexus 6P. Samsung: Galaxy S8/S8+ Galaxy S9/S9+ Galaxy S10/S10+ Galaxy Note 8. Galaxy Note 9. Galaxy Note 10.
Warning: Huawei phones with Android 10 (EMUI10) will only work with USB connection!
Installation Video BMW CCC e90
Installation Video BMW CCC e60
Join us Carplay.lt!