Description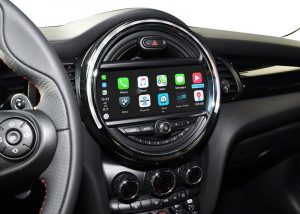 The Mini Carplay add-on extends the functionality of your original Mini navigation system by allowing you to use popular apps such as Waze, Google maps, Sygic Navigation, Apple Maps, Spotify, Apple Music, Whats app, Deezer, Podcasts, Sound Cloud or Mixcloud. The accessory connects wirelessly to an iOS or Android smartphone, allowing you to use the Apple Carplay or Android Auto environments for modern cars.
MINI Carplay uses the original monitor, so the original MINI look is maintained. The device's menu is controlled using the original system's controls – the dial and steering wheel switches – so the original MINI driving experience is maintained. MINI Carplay is fully integrated with the original MINI parking systems – the device automatically switches to the rear camera or parking sensor view when reversing and switches off when shifting. The MINI Carplay wiring harness is connected to the original connectors, so there is no need to cut and solder any connections. The device is fully ready to use and requires no additional programming.
Additional features
MINI Carplay supports AirPlay and Screen Mirror, which allow you to share your smart device's screen, view photos or videos, and can also play high-quality video or audio files from a USB stick. MINI Carplay has an additional equaliser function that allows you to adjust the settings of the original audio hardware. The device has its own camera control system, which can be connected to the rear, front or both, so if your car hasn't had this benefit before, this is a great opportunity to install it.
Key benefits:
– No need to replace the original multimedia screen.
– Wireless interface via WiFi and Bluetooth or USB connection.
– Original functionality is retained – you can return to the original menu at any time.
– The original display of car cameras or parking sensors is retained.
– Control by steering wheel, original wheel or phone.
– Voice control with Siri or Google assistant.
– USB interface for playing music or video files.
– Hands-free – better audio call quality than OEM.
– Sound system equaliser function.
– Optional rear view camera.
– Easy installation – no need to cut and solder wires, possibility to remove the handset.
MINI Carplay.lt is CE/ROHS/FCC/ISO9001 certified.
The device comes with a 2-year technical warranty.
Compatibility
Suitable for all Mini models manufactured between 2008 and 2020:
Mini Clubman F54 ,
Mini Cooper Hatch S JCW F55/F56,
Mini Convertible F57,
Mini Countryman F60.
Wireless Apple Carplay works with all Apple iPhone models with iOS 12 software and above.
Wireless Android Auto works with most Android mobile devices that support at least Android 11 software and above:
Join us on Carplay.com!